Large Format Printing: Ink Jet Printing
Large format printing is used to create indoor and outdoor banners, and bunting for your promotions. Versatile and cost effective, large format print is very budget friendly when you need to run a promotion campaign in Kota Kinabalu.
You can see examples of large format printing all over Kota Kinabalu city, from indoor use, trade booths to lamp post banners.
We create our large format printing using ink jets for fast turn-around time. This is digital printing from the artwork you give us. The benefit is low cost, fast turn around time and we can print custom sizes.
What Is Large Format Printing Used For?
Horizontal Banners – for indoor and outdoor use
Vertical Banners or Bunting – for indoor and outdoor use
Billboards – outdoor media for rent
Wallpaper – for interiors, trade booths and makeovers
Signboards – for interior or exterior use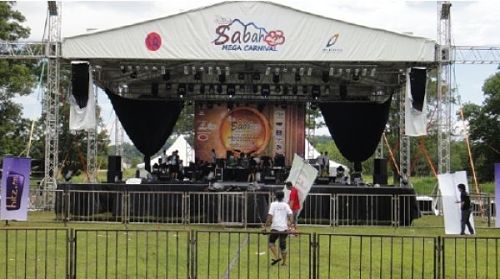 The Many Uses Of Large Format Printing
Large format printing or digital ink jet printing is a flexible advertising option, you can specify any size you want, in any full colour design. You can use it for indoor or outdoor, for any advertising campaign or promotion.
Indoor Use
Great for showcasing your promotions in shopping malls or use in-store. You can use a pop-out stand or hang in on a wall. It lets your customers know what the latest promotion is at a glance.
Outdoor Use
Use as a promotion banner in front of your outlet, or print a giant building banner, or use it to extend your marketing reach on lamp posts. Everyone from telecommunication providers to supermarkets are using it.
Stage Show and Concerts
Used to create a backdrop and in conjunction with your concert or show theme, this helps to create a memorable event and the right atmosphere. Also great for trade shows, events and new product launches.
Ease Of Printing
All you have to do is to come with a design, in actual size preferably, and we can do the rest. If you need us to design your banner, that is not a problem. We do everything in-house, from design to printing to installation.
Use Large Format Printing For Your Marketing
For flexibility and cost effective advertising, try large format printing. We do large format printing in Kota Kinabalu. Call us or email us for more details.
Need a graphic designer? We provide that too!