Neon Signs In Kota Kinabalu, Sabah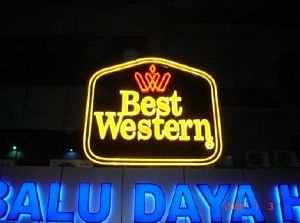 At Tiara Perkasa, we design, fabricate and install all sorts of Neon light signage for business in Kota Kinabalu, Sabah. Neon signs can be used as outdoor and indoor signage, used as a company signboard or interior decor.
We can fabricate any custom shaped neon light signboard for your company. Neon signboards are perfect when you incorporate your logo and by adding borders, we can produce an eye-catching design for your business. Neon light signage can be manufactured in a variety of colors and provides that Wow factor.
Neon lights give you endless possibilities, limited only by your imagination. We are a one stop advertising and signage agency, which means we can take your concept from design to fabrication and installation. We have worked with many businesses and architects in Sabah, producing neon signage that meets our clients standards.
Neon Signs Are Perfect For Your Business
Neon signs lets people know where your business is and it acts to advertise your business. Your light signage can be seen from a distance and attracts people's attention. Suitable for indoor and outdoor use, neon signs work well for many industries from retail to restaurants and bars. It can also be used to create ambiance in your interior space.
Signboard for retail shoplots
Signboard for office buildings
Food & Beverages signboards
Entertainment signage
Consumer electronics showrooms
Telecommunication
Interior design
Many other commercial uses
You can see our work throughout the city in Kota Kinabalu, Sabah.
Neon Signs Lets Your Business Stand Out
Need to attract customers to your location? We can help, from design to installation. Whether you require a large neon sign for your building or a small neon sign for your shop, we provide the same outstanding service.
After-Sales Service and Maintenance
We aim to provide outstanding services to our clients and this include after-sales services. We stand behind our work and can provide maintenance so your neon sign will look as good as new no matter how long it has been installed. Our after-sales service helps maintain your brand image in the eyes of your customers.
For Neon Signs At Affordable Prices – Choose Tiara Perkasa